uricola

The white mole of the church stands out solemnly at m. 270 of altitude on the pick of the hill called too Auricola.  It is accessible from Amaseno through a rolling road km. 3,762 long.  From there it is possible to admire a pleasant view of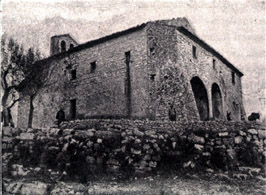 the wide valley underneath.  The building, which appears to be of a recent making, contains inside considerable remains of old age.
Its origin goes back to before XIII century.  The historian Tomassetti, judging by the iconographic characters of the old frescos existent in the church, is of the opinion that Cistercian monks founded it.  The building was partially destroyed by the 1944 gunfire and subsequently repaired.
The church is built in local limestone, chisel-worked.  The exterior is modelled on the elegant lines of the later Romanesque style.  All the main elements, such as the portal and the corbels, are made from the white stone of Pescara.
The interior, preceded by the vestibule preserves the primitive Gothic shapes: straight pilasters, pointed arches and cross vaults.  It has only one nave with asymmetric lateral chapel, which are the oldest part of the church.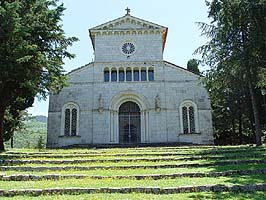 On the vaults and on the walls there are valuable frescos with various figures and ornaments, which show characteristics similar to those of S. Maria's church in Amaseno.  On the high altar is placed a panel, dimension m. 1,30 x 1,00, showing the Virgin on the throne feeding the Child and the two Mary's one on each side; two small squares on the upper corner show the Annunciation and the Nativity scenes.  It is believed to be of the Neapolitan school of the XV century.  The walnut frame was carved by Vespasiano Tosti at the end of XIX century, as well as the three altars.
In the internal chapel of the monastery is preserved a very beautiful altar of polychrome marbles coming from Macchirelli's palace in Pesaro.  Notable too are the four golden and carved wooden reliquaries left to the church by Franciscan friars and placed in the relic chapel; they are very interesting examples of carving of the XVII century's baroque art.
<![if !supportEmptyParas]> Translated by Mauro Rotondi & Beverley Wheatley<![endif]>